Finding His Path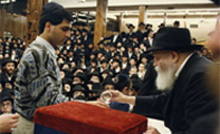 Yoram Eliyahu's varied life experiences have led to his interest in and deep devotion to community service and outreach.
One of his earliest exposures to service and educational organizations within the Jewish community was his introduction to Chabad while serving his three-year term in the Israeli army. Chabad is a worldwide organization with branches in more than 1,000 cities. It provides programs and activities to the Jewish community at camps, synagogues, community centers and schools, as well as providing other valuable services.
The young Eliyahu really appreciated the services offered to the soldiers in his unit by Chabad and was impressed with their dedication and selflessness. They had provided special food and drink for the soldiers' holiday celebrations, as well as entertainment in the form of singing and dancing to lift their spirits.
At the age of 25, Yoram Eliyahu again encountered Chabad at its headquarters in Crown Heights, Brooklyn. Three times a year, Rabbi Lubavitch Menachem Mendel Schneerson performed a special wine blessing ceremony, and Yorim had the opportunity to witness one of these ceremonies. Soon after he was presented with an opportunity to meet Rabbi Schneerson himself, whose warmth and kindness left a deep and lasting impression on him. He was so taken with the ceremony and meeting that he has continued to return for each ceremony since.
To this day, Eliyahu and his family are active members of the local Chabad in their hometown of Kings Point, in Long Islandís Nassau County. Eliyahu was instrumental in bringing a famous Israeli cantor to serve with the Kings Point congregation. In addition to his local involvement, he has also worked with Chabad of Flushing for the past ten years, where he assists in and sponsors community outreach programs.