Yoram Eliyahu Background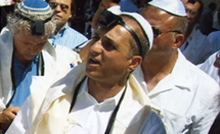 In the mountains of northern Israel lies a a small town known as Kirat-Shmona, where Yoram Eliyahu was born. Though his parents worked hard, theirs was a family of modest income which included Yoram and his four siblings. His home was observant and traditional, and the values of honest work, faith and family were rigorously taught. His father was a construction worker who labored to provide for his family.
Yoram was sent to board and learn at Bezek High School, with a specialization in telecommunications and electronics. After he graduated, Yoram continued his education for another two years, earning a sub-engineering degree. Yoram then served a three-year term in the Israeli army. He first encountered the Chabad movement during his years of service. That encounter has had a significant influence on him to this day.
After his honorable discharge from the army, Yoram came to America, driven to create a life for himself and his family. Remembering his encounter with Chabad, he visited their headquarters in Brooklyn, and had the pleasure of meeting Rabbi Lubavitch Menachem Mendel Schneerson, who was a great inspiration.
As Yoram adjusted to life in America, he worked in various businesses learning skills that would serve him well in his future career. The real estate business particularly attracted Yoram and he started in an entry-level sales position with a real estate company. He continued to develop his interest and skills, which led to his becoming an independent real estate developer. He now owns and manages income-producing properties throughout the country.
Yoram Eliyahu and his wife are the proud parents of four children. They currently live in Kings Point Village in Great Neck, New York and are pleased to announce a fifth blessing on the way.