Chabad and Yoram Eliyahu Feed New York's Hungry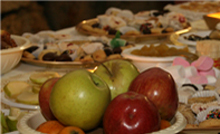 The Food-In-Need Project, sponsored by Chabad, contributes food to over 300 Jewish families living in New York who are in need of assistance during the Jewish holidays. It allows individuals who struggle to provide food for their families on a regular basis with the opportunity to enjoy a traditional holiday meal. In many cases, these families would be unable to enjoy a holiday meal without the assistance of this vital program. Each holiday season, families in need receive holiday staples including chicken or other meats, fruits, vegetables and bread.
A major sponsor of the program is Yoram Eliyahu. An active member of his local Chabad chapter in Kings Point, Long Island, he has also been involved for ten years with Chabad of Flushing, Queens.
Chabad is a worldwide service and educational organization which can be found in over 1,000 cities throughout the globe. Founded in 1997, Chabad of Flushing is instrumental in providing numerous services to Jews in the city including marriage preparation and visits to the sick and incarcerated , as well as the Food-In-Need Project. Chabad also sponsors many programs and activities at synagogues, camps, schools and other Jewish community centers.
Eliyahu's concern for the wellbeing of local citizens in need led to his involvement with the Food-In-Need Project. He became a sponsor after becoming aware of the plight of a large number of Jews in the community struggling to provide for their family's basic nutritional needs. In addition to being a sponsor, he and his family participate in the annual door-to-door deliveries of food to needy families. He encourages his four young children to assist in these deliveries to teach them the importance of performing good deeds and contributing to those in need in the community.