North Shore Hebrew Academy's New Sefer Torah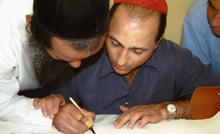 In Great Neck and the surrounding area, the North Shore Hebrew Academy has been a cornerstone of Jewish life since its founding in 1954. For most of those years it served the youngest members of the community as an elementary school. At long last, they opened their high school division in 2001 so they could continue serving the youth of the community in the important teenage years. The successful program quickly grew, outpacing the resources of the original building. The school's objective was to provide a first-rate academic program, incorporating a strong foundation in all facets of Judaism, a dedication to the Hebrew language, and support for the State of Israel. After five short years the high school was ready to expand, and a new wing was built with state of the art facilities, supporting the many aspects of the curriculum.
In business, Yoram Eliyahu is known as a real estate developer. In politics, he may be seen as an activist, due to his deep concern with conditions in his native country. But in the community where he lives with his family, in Great Neck, New York, Yoram is known as a dedicated family man who believes in education and community.
When news of the proposed new high school facility reached Yoram, he was impressed and wanted to help. Knowing the importance of a strong education, and specifically a strong Jewish education, he felt driven to contribute in any way he could. He knew that a Sefer Torah would be a meaningful gift in keeping with the spirit of the expanded school. Twelve Torah scrolls were dedicated at the opening of the new wing and are still in use today, including the one donated by Yoram Eliyahu.
Yoram's children have attended the North Shore Hebrew Academy, and his family continues to be involved in the life of the school.